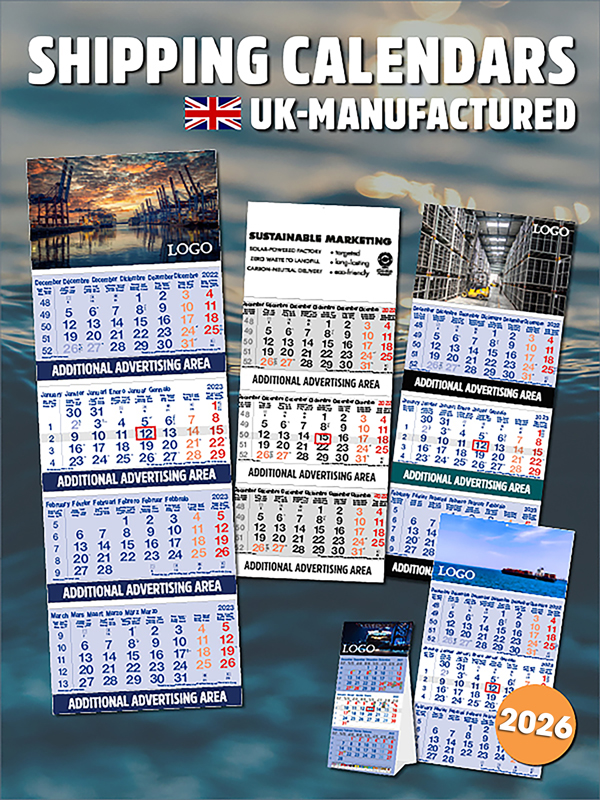 Is your company importing or exporting, to and from the U.K? Or even moving freight around the country?
Then our superb collection of shipping calendars are just the working tool that will keep your company details in front of your customers for a whole year! Your company details, product pictures, or any other important information that you wish to display are there – day after day, week after week.
Shipping calendars remove any confusion that might occur over dates concerning despatch, delivery, or any other time sensitive information. Our shipping calendars have big, bold dates and week numbers, clearly visible from across a busy office. We can print your advert in any number of colours, from either your prepared artwork, or your instructions.

Our designs include three months to view, four months to view, and a desk version. Our prices are as clear as our dates, and we aim to be the most competitive possible in the U.K.
The prices include printing from your supplied pdf artwork, and we can even supply design templates to make life easy for you. A proof is supplied for your approval before your calendars are printed.
Should you wish us to prepare your artwork for you, we can provide this service at a moderate extra cost.
All calendars come inserted into mailers, ready for you to distribute.
Finally, there is no 'cash with order' - you will be invoiced after delivery, making the whole ordering process totally risk free. We look forward to hearing from you!